Woodstock's 2002 Centennial Celebration Guitar Sculptures
Peter Benzing • Rennie Cantine • Adrian Guillery • Steve Heller • Michael Hunt• Melissa Palmatier • Barry Price • Pierre Riche • Jeffrey Schiller • Gideon Stein • James Weber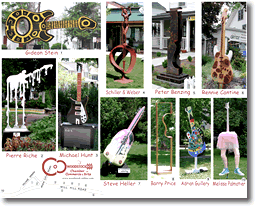 2002 Online Auction Results:
Eight of the ten sculptures met their minimums or reserves, and sold in a range from $575 to $8,675. Three of those eight remained in the town of Woodstock. One went to Margaretville, NY; another to Alabama; a sixth one to Maryland; and the final two to California.
Woodstock's Guitar Sculptures at Auction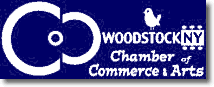 In 2002 the Woodstock Chamber of Commerce & Arts put out a call for guitar sculptures via competitive entry as part of the 100th anniversary celebration of Woodstock as a colony of the arts. The ten winning sculptures were unveiled in May of 2002, and positioned at various locations throughout the village of Woodstock. They were hugely popular with visitors and residents alike, and were featured by Sotheby's/eBay in an online special auction of rock 'n' roll collectibles and Beatles memorabilia that took place October 31 though November 10, 2002 (Sotheby's/eBay Rock 'n' Roll Special Auction).
Woodstock honored the artists and the sculptures in a live auction event at the Woodstock Guild's Kleinert/James Arts Center, 34 Tinker Street, on Saturday, November 2, 2002, at 7 p.m. The highest bids were posted online at Sotheby's/eBay. Eight of the ten sculptures sold, at excellent prices, to buyers all over the United States.
"This show is about the evolution of North American Art…. Art is healing to the observer, and these sculptures have struck a resonant chord with the public. These are positive, happy images in a dark and unsure time in history, and that is part of the reason why they are having an impact. Woodstock symbolizes the ideals of peace and love, and in these times people are looking back to the things that represent what was and what still is good about our country, to reassure themselves that we are strong and everything is going to be all right. These original public artworks are a testament to the creative human spirit and its will to survive."
—Gideon Stein, guitar sculpture artist
Online Auction FAQ (Sotheby's/eBay)
1. How do I register to bid on the guitars?
Link to Sotheby's and then click "online auctions" in the masthead opposite the Sotheby's name. That will take you to a Sothebys.com page; click "sign in" on the navigation bar at top far right. On the "Sign In" page, click the gray "Register" button at left under "New to eBay?" Then just fill in the online form, creating an eBay user ID and password as you go. You'll need a credit card to complete the process. If you're already registered with eBay, there's no need to create a separate Sotheby's online identity.
2. Where are the guitars listed online?
The ten guitar sculptures are part of a special online consignment of "The Legends of Rock" collectibles. The online auction will be held Thursday, October 31 to Sunday, November 10, 2002. Link to Sotheby's and then to "The Legends of Rock" under "online special auctions" on the bottom left. That will take you to a page where the "2002 Woodstock Guitar Sculptures" will be listed. Alternately, you can place a search on "Woodstock Guitars" from anywhere on the Sotheby's/eBay site.
3. How can I bid online?
Once the auction has begun (10/31/02), follow the procedure outlined in Question 2. above—and then click on "2002 Woodstock Guitar Sculptures" or simply, "view all lots." The ten guitar sculptures will be listed there. Click on a sculpture listing, and then on the gray box in the upper right hand corner, "bid now." Sotheby's/eBay advises the following steps: a. Register (see Question 1 above). b. Learn about the seller (in this instance, the Woodstock Chamber of Commerce and Arts—WCOCA) c. Know the details (study the information provided for each sculpture) and d. If you have questions, contact the seller (WCOCA). All this is easily accomplished by clicking buttons and links provided on the bidding pages by Sotheby's/eBay.
4. What is a maximum or "proxy" bid?
When bidding, you may enter a maximum amount that you're willing to pay for the sculpture. The Sotheby's/eBay computer will repeatedly bid on your behalf, by pre-set "bid increments" up to your maximum bid, which is kept secret from other Sotheby's/eBay users. The term for this is proxy bidding.
5. How can I make sure I win my favorite sculpture?
Unfortunately there are no guarantees, but a good strategy is to place an aggressive maximum bid, and to diligently follow the online bidding the final day (Sunday, November 10).
Artist and Sculpture Profiles
Peter Benzing • Rennie Cantine • Adrian Guillery • Steve Heller • Michael Hunt• Melissa Palmatier • Barry Price • Pierre Riche • Jeffrey Schiller • Gideon Stein • James Weber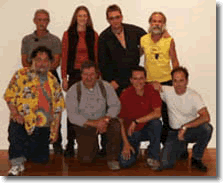 Eight of the 11 guitar sculpture artists gathered in August 2002. Pictured here, they are (front row from left) Adrian Guillery, James Weber, Gideon Stein and Pierre Riche. Back row from left, Jeffrey Schiller, Melissa Palmatier, Michael Hunt and Steve Heller.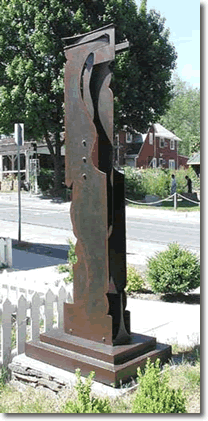 Peter Benzing
Title: Steel Guitar
Artist: Peter Benzing,
845-246-1188
Pre-Sale Estimate: $4,500 to $6,500
Minimum Bid: $300
Reserve Price: Yes
Measurements: 72"high x 16"wide x 8"deep
Weight: 500 lbs. (estimated) Optional: bluestone slab at an extra 100 lbs.
Materials Used: ¼" sheet steel, angle iron, maple wood
Inspiration: "The sculpture is a gesture, expressing the physical elements of the guitar—a 'deconstruction' of the guitar, reminiscent of Picasso's paper collages from 1912 to 1914 i.e. Guitar and Bottle of Bass (1913). The sculpture does not reveal itself immediately. It forces the viewer's imagination to fit the pieces of the puzzle together, creating a fictional image of the guitar hidden beneath the layers of materials. The sculpture's immediate visual image is strong, but its true identity is subtle. I work from nothing more than a thumbnail sketch. I allow the materials and my environment to dictate the artistic direction of the piece. It is a creative journey full of twists and turns, a 'destination unknown' even to me!" Born in 1964 in Columbus, Ohio, the artist has a BFA in gold and silversmithing from SUNY New Paltz, NY.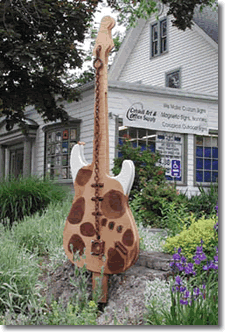 Rennie Cantine
Title: Got Moosic?
Artist: Rennie Cantine,
845-679-0759
Pre-Sale Estimate: $1,500 to $2,500
Minimum Bid: $500
Reserve Price: None
Measurements: 8'high x 3½'wide x 3" deep
Weight: 120 lbs. (estimated)
Materials Used: Wood, rusty farm parts, paint
Inspiration: "A gesture of friendship to New York City." Cantine's piece is a humorous nod to the famous cow sculpture collections of New York City and Chicago. The artist was born in Kingston, NY, 1959, and studied environmental design and architecture at the University of California in Santa Cruz. During the summer of 2002, he hosted a "guitar festival" tribute to Woodstock's 100 years as a colony of the arts, in which dozens of established and aspiring guitarists participated.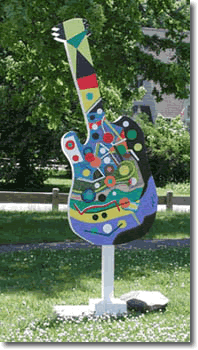 Adrian Guillery
Title: Guitar Harmony
Artist: Adrian Guillery
Pre-Sale Estimate: $3,000 to $5,000
Minimum Bid: $100
Reserve Price: Yes
Measurements: 6'high x 4'wide x 5" deep (base 36" long by 27" wide)
Weight: 75 lbs. (estimated)
Materials Used: Acrylic on wood
Inspiration: "Why I created this particular sculpture…my wild enthusiasm for the guitar!" Born on Long Island, NY in 1940, the artist studied at SUNY in New Paltz, NY. A composer and visual artist, Guillery has performed opposite Muddy Waters, Jimi Hendrix, Eric Clapton, Frank Zappa and The Grateful Dead. He has played on albums by John Hammond and Richie Havens. Other gigs include shows at the Whitney Museum, MOMA, and the Huntington Hartford Museum.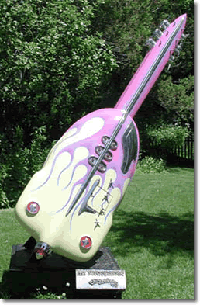 Steve Heller
Title: Stratocruiser
Artist: Steve Heller, 845-657-6317 (Martha), fabfurn1@aol.com, www.fabulousfurnitureon28.com
Pre-Sale Estimate: $12,000 to $15,000
Minimum Bid: $750
Reserve Price: Yes
Measurements: 8'high x 3'wide x 36" deep at base
Weight: 200 lbs. (estimated)
Materials Used: 1953 Pontiac Starchief, assorted car parts
Inspiration: "When invited to propose a guitar sculpture, it was only natural that I would turn to my collection of rusted 50's cars that I've saved from the junkyard and the evil crusher. Half buried in the mud, a rotting 1953 Pontiac Starchief called out to me—the combination of its rounded fenders and the quarter-panel bulge was the perfect starting point for my Stratocruiser. After cutting the car totally apart, we started reshaping the metal into the form of a guitar, incorporating not only the '53 Pontiac, but two '65 Buick front fenders (the neck); a 1988 Dodge Minivan roof (the back); and three Harley Davidson taillight bezels (the fret-board). To bring this car back to life as a guitar was music to my heart. Talk about the ultimate fender guitar!" (A 38-page photo album showing the construction of the Stratocruiser comes with the sculpture.) The legendary Fender Stratocaster is one of the most widely heard and immediately recognizable of electric guitars, etched into the collective consciousness by Jimi Hendrix and other greats. Born in 1945 New York City, Heller has a BS from Queens College and is a self-taught artist. He owns/operates Fabulous Furniture in Woodstock, where his work is displayed.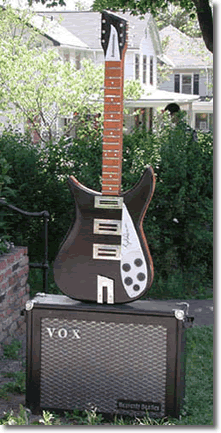 Michael Hunt
Title: Heavenly Beatles
Artist: Michael Hunt,
845-688-5515, cosmicamerican@gmail.com
Pre-Sale Estimate: $1,800 to $3,000
Minimum Bid: $150
Reserve Price: Yes
Measurements: 96"high x 36"wide x 10" deep
Weight: 150 lbs. (estimated)
Materials Used: Base (Vox Amp)—concrete, plywood, foam and stainless steel. Rickenbacker guitar—Spanish cedar, latex paint and stainless steel. Guitar strings—17 gauge galvanized electric fence wire.
Inspiration: "A tribute to John Lennon and George Harrison, the late great Beatles guitarists, for all they've given to the world." Michael Hunt was conceived at the Woodstock Festival in Bethel, NY and born in Honesdale, PA in 1970. His work, known as Cosmic American Art, is a generous mix of pop, folk and history. "The Beatles take the notion of the generation gap and smash it right to bits. They will be listened to forever. I just wanted to honor the two [Beatles] guitarists for all they've given the universe, and how they were always choosing love over fear. The piece sort of evolved into a very realistic version of their equipment…Vox…Rickenbacker. It's all very familiar and really works as a tribute. There're so many statues honoring generals and politicians—here's a memorial of a different kind, honoring the things that make us want to live in the first place."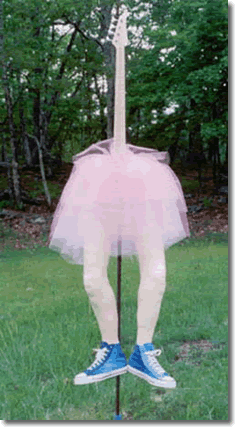 Melissa Palmatier
Title: Leonora
Artist: Melissa Palmatier
Pre-Sale Estimate: $1,500 to $2,000
Minimum Bid: $500
Reserve Price: None
Measurements: 6'high x 2'wide x 1'deep
Weight: 50 lbs. (estimated)
Materials Used: Plaster, wooden "Ibanez" bass neck, canvas high tops, tulle, acrylic paint, newspaper, twine, wire
Inspiration: "Leonora embodies the joy that music makes us feel. I have seen the visual arts make people weep, but it is only music that has the power to move a roomful of people into dancing. The word 'music' stems from the Greek word for Muse (Music: the art of the Muses). The title for my piece was inspired by the painter, Leonora Carrington (a surrealist by association), whose imagery was based largely in the subconscious and the symbols of a personal mythology. Carrington possessed a spirit of vivid imagination and rebelled against the idea of the woman artist as muse for the painterly patriarch." Born in 1977, the artist has a BS in art education from SUNY at New Paltz, NY. She lives in Bearsville, NY and has exhibited her work at numerous galleries in the Hudson Valley. Using art as meditation, she begins by tapping into the pulse of imagery from the far reaches of her dreams and trance-like intuitions.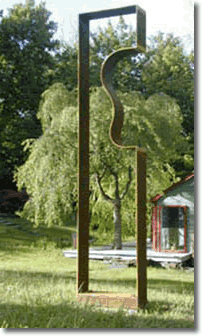 Barry Price
Title: Guitar Form
Artist: Barry Price, 845-679-3282, info@barryprice.com, www.barryprice.com 
Pre-Sale Estimate: $2,000 to $3,000
Minimum Bid: $100
Reserve Price: Yes
Measurements: 89"high (+base) x 20"wide x 7"deep
Weight: 250 lbs. (estimated)
Materials Used: ¼" thick Corten steel plate, poured concrete base
Inspiration: "The guitar is as much a cultural icon as it is a musical instrument. It evokes imagery ranging from cubist paintings to pop phenomena. My sculpture seeks to test the limits of this legibility by reducing the form of the guitar to its essence. A vertical rectangular steel plate frame is deformed by the curvature of the instrument's profile, leaving the completion of the image to the imagination of the viewer. Born in Newark, NJ in 1962, the artist has a BA from Lehigh University and an M. Arch. from Harvard GSD. He is a licensed and practicing architect specializing in residential commissions, and is an art instructor at Vassar College.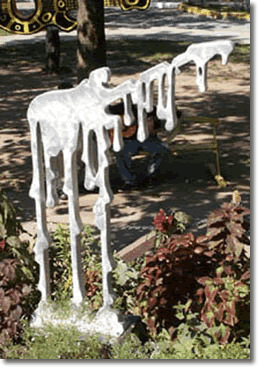 Pierre Riche
Title: Melting Strat
Artist: Pierre Riche,
richeart333@gmail.com, www.richeart.com
Pre-Sale Estimate: $2,000 to $4,000
Minimum Bid: $100
Reserve Price: Yes
Measurements: 96"high x 54"wide by 18"deep
Weight: 100 lbs.
Material Used: Aluminum
Inspiration: "Wake up and smell the global java and realize that we as human inhabitants of this planet are currently seeing world chaos. Welcome to the 'meltdown era,' a time when forms as we thought we knew them are in a state of rapid transformation. This sculpture is a way for people to absorb and experience the full scope of the cultural meltdown. Hopefully it may serve to remind the viewer that life is a celebration, a continual rejuvenating melody that must not be lost. 'Melting Strat' was inspired by the political, economic, environmental and cultural meltdown that is taking place in the world today—and by the malleable nature of reality and the possibilities people can create for their lives." The artist was born in New York City, 1966, and has studied at the Chicago Art Institute and The Arts Students League, NYC. He has exhibited in New York City, Chicago, Pittsburgh and Boston.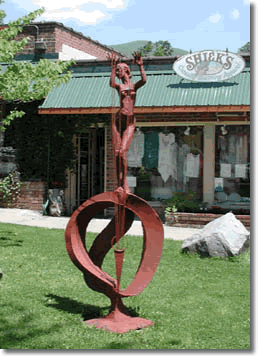 Jeffrey Schiller &
James Weber
Title: Muse with Strings
Artists: Jeffrey Schiller (845-246-6209) and
James Weber
(845-246-3839)
Pre-Sale Estimate: $4,500 to $6,000
Minimum Bid: $500
Reserve Price: Yes
Measurements: 96"high x 34"wide x 32" deep
Weight: 200 lbs. (estimated)
Materials Used: Welded steel with bluestone base
Inspiration: In conceiving this piece the artists were "inspired by ancient matriarchal societies, which considered the stringed instrument sacred to the Great Mother. It was felt that music encouraged cosmic awareness—that is, a sense of humanity's place in the universe. Early stringed instruments were turtle or tortoise shells with three strings stretched over the hollow underside. This form, by its very nature, also symbolized the universe."
Jeffrey Schiller was born in Brooklyn in 1945 and has a BFA from Pratt Institute.
Born in 1949 in Scarsdale, NY, James Weber also has a BFA from Pratt. Both artists have considerable industrial experience with welding and fabrication, and have shown their work extensively in New York City and in the Hudson Valley.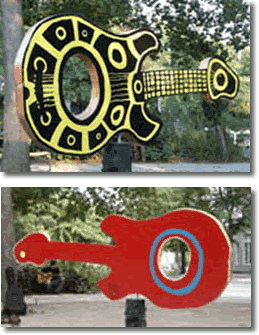 Gideon Stein
Title: Guitar Sculpture
Artist: Gideon Stein
Pre-Sale Estimate: $5,000 to $10,000
Minimum Bid: $100
Reserve Price: Yes
Measurements: 4'high x 10' wide x 3 ¾"deep
Weight: 250 lbs. (estimated)
Materials Used: Waterborne acrylic varnish on exterior grade plywood
Inspiration: "People tell me that they see the [Charles Schulz] Woodstock character in the headstock of my piece. Bernard Rosenthal's Alamo, the large cube sculpture in Manhattan's Astor Place, was the inspiration for it revolving." Countless visitors to Woodstock have taken their pictures through this sculpture, framing their faces in its sound hole. "I wanted my piece to be interactive and something that would bring people together. To have fine art accessible to the public…is a huge step towards re-introducing art to America…in a time when cultural renewal is needed." Born in New York City in 1970, the artist studied at Dalton, The New School and Hunter College. Exhibitions include the Salmagundi Club in NYC and the Core Gallery in New Paltz, NY.