2018 WoodstockArts Catalog

WoodstockArts is a publishing, production, marketing and distribution company. As publishers we specialize in quality regional art, history and travel books.
Our 2018 catalog features books published by WoodstockArts—but also books and DVDs from a number of outstanding local presses and filmmakers. Included in this year's catalog are books from the following: Black Dome Press, Bushwhack Press, Opus 40, the Woodstock Artists Association and Museum (WAAM), and the Woodstock Byrdcliffe Guild. We also offer films by David Becker, by Stephen Blauweiss and Lynn Woods, by Tobe Carey of Willow Mixed Media and by Cambiz Khosravi of Woodstock Heritage Productions.
To download a PDF of our 2018 catalog—with the books, DVDs, CDs and knowledge cards currently available from WoodstockArts—click here.
To purchase books, DVDs and CDs from the catalog online, click "Catalog" on the navigation bar at the top of the page. Use the search tool (magnifying glass icon) to find any title. Several of the books are available online at discounted prices.
Living Large won two INDIEFAB awards
On June 25, 2016 at the American Library Association's annual conference in Orlando, Foreword Reviews announced this year's INDIEFAB book of the year awards. Living Large took Silver in the LGBT category and Bronze in Biography. It was also a finalist in the Art category.

Living Large won Gold . . .
. . . in the Independent Book Publishers Association (IBPA) 2016 Benjamin Franklin Awards competition, LGBT category. Final results were announced in Salt Lake City on Friday, April 8.
Gold Awards for Under the North Light

Announced on June 28, 2013 at the American Library Association Annual Conference in Chicago: Under the North Light by Lawrence Webster has won its third gold medal: ForeWord Reviews Book of the Year Awards, 2012 Winner in Biography (Adult Nonfiction).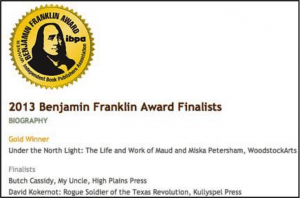 The first two such prizes, also in biography, were for the 2013 Benjamin Franklin Awards (Independent Book Publishers Association)
and the 2013 Independent Publisher Book Awards.